When To Come >> Love The Weather >> Autumn Mists
When: mornings in autumn, "season of mists and mellow fruitfulness" [Keats]. But also in Spring: this Easter Day (April 2009) was a classic - you could stand on top of Screel at 6.30 and watch the sunrise in all its glory while looking down on a blanket of mist in the glens below.
Where: especially around water, e.g. Loch Ken, or the Dee around Threave Castle - marvellously eerie and atmospheric! On the estate, mists often hang at the base of the hills - the jagged Potterland Hill then looks uncannily like a scene from an oriental landscape painting.
Sometimes a late afternoon sea mist ("haar" in the east) comes rolling in at low level and sweeps up the estate's two glens at amazing speed - quite an experience to watch from higher ground. Especially in Spring.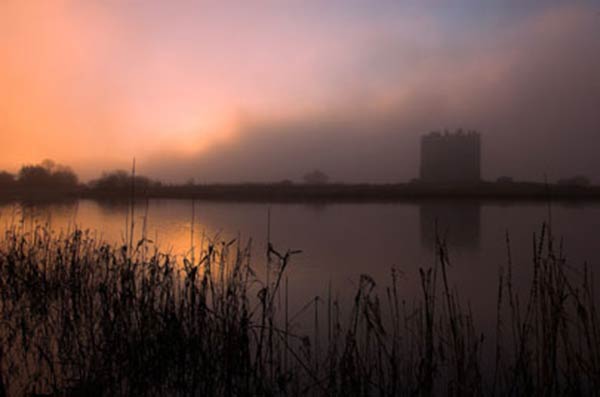 The most dramatic of the many faces of Threave Castle - imagine tolling the bell for the boatman as mist swirls across the water of Dee, and glimpsing the castle's dark hulk from the boat ...
Love the Weather, Where & How: next ...
---
For more on the estate places mentioned above, see Explore The Estate.