Follow the steps of the young Bruce in the Galloway Hills in 1307, the start of his long fight for independence culminating in the victory at Bannockburn in 1314.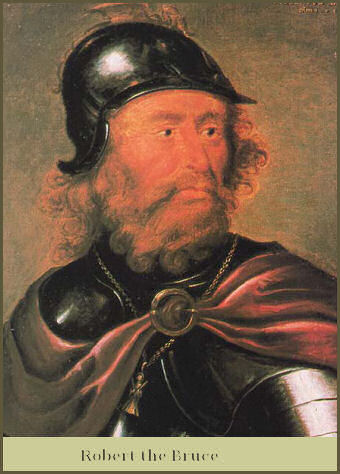 A nail-biting game of hare and hounds played for blood, the Bruce with a tiny guerrilla band pursued by armies over this wild terrain, living on his wits and his hill-craft.
Fantastic tales of survival against the odds, beyond Hollywood, yet true.
Try following him yourself, and marvel: his flight over the Dungeon Hills, down the Wolf Slock, past the Rig Of The Jarkness, across the quaking bogs of the Silver Flowe, and half swimming half wading down Cooran Lane ("lane" = water) to shake off John of Lorn's bloodhound. Such romantic place names! They stir the blood.
See Bruce Tales for the full story, and others.
Navigation Aids
Where We Are >> Why Galloway >> Galloway Tour >> Robert The Bruce
Other pages in the tour:
Galloway Hills
Lochs And Rivers
Solway Coast
Unique Towns
Lush Pastures
Varied Woodlands
Naturalist Country
The Debris Of History
Art And Design - previous in tour
Robert Burns - next